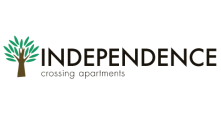 Your Review
Submit a Review

Resident Reviews
|Recommended: YesReview — I liked the size and sense of comfort with these apartments. Very good area and the staff was great in helping me with any questions.
|Recommended: YesNice apartments in a nice community. Great management staff. — Enjoyable, relatively quiet and in a great location. Easy to get downtown and to various stores and located off of a nice neighborhood.
|Recommended: YesGood — Management always responds within 24-48 hours, maintenance is good at fixing problems within a reasonable time frame, overall this is a great place for young professionals or small families.
|Recommended: YesVery pleased — I am very satisfied with my apartment at Independence Crossing. Parking is a non-issue and I have plenty of space and freedom for the price I pay on a monthly basis.
|Recommended: YesI like it. Quiet, well maintained. — I like it. It's a quiet community, there's tons of parking, and the apartment is in good shape. Some of the applicances and the bathroom are a little old, but everything works.
|Recommended: YesWe are comfortable here. — This was a huge move for us, moving from our home to an apartment. This has been a comfortable change in our lives. Staff has been helpful, and supportive. They have made us welcome. The property feels more like a small row home, rather than an apartment.
|Recommended: YesA wonderful place to live — This is my second time living at Independence Crossing. The first time was for 4 years and I am getting ready to renew again. The staff are wonderful to deal with and you can tell they care about you and any concerns you have. The residents make it feel like a true community. Phoenixville is a wonderful area with easy access to anything you want. Check it out, you won't be disappointed
|Recommended: YesGood Value Place — You get what you pay for. I do not mean this in any negative connotation. These apartments aren't expensive, and you get a place of good value. Neighbors are friendly enough, quiet community, good living space, things work, and relatively well kept. Not everything is perfect, but as an individual living on my own who is pretty low maintenance this place works just fine.
|Recommended: YesGreat place to live — It is a clean complex both inside the apartments and the grounds.
|Recommended: YesVery nice — easy, peaceful, safe, clean
|Recommended: YesConvenient, safe, friendly, clean, worth the price — The complex is set back away from the main streets and is very quiet. There is plenty of parking. The people who run the office are extremely nice and accomodating. The apartments are well kept and they are a good buy for the price.
|Recommended: YesI have had a wonderful experience dealing with Collen and Tony. — The development is nestled in a quiet peaceful setting, but it is close to everything that you would need.